First of all, let me apologize to all the Divine Digital members that were expecting these on the 15th and 16th. I somehow got the dates wrong and am soooooo sorry!!
~~*~~*~~*~~*~~*~~
As many of you know, October is Breast Cancer Awareness month. Everywhere you turn, I am sure that you are finding some of your favorite products in new pink packaging. At Divine Digital, we decided that we also wanted to help raise awareness. We are calling our event the "Passionately Pink" Event. Be sure to check out what we have going in the
forums
at Divine Digital. We have many activities this month focused on helping raise awareness. Many of the designers at Divine Digital have contributed to a HUGE MEGA KIT. ALL the proceeds from the sale of this kit will be donated to the
Susan G. Komen Foundation
.
We are also having a HUGE BLOG PARTY and blogging for the cure as well. Many designers at Divine Digital are offering freebies on their blogs during this great big BLOG PARTY.
In keeping with the theme of "Passionately Pink"....
Here are a few of my pink things that I am passionate about....
~~*~~*~~*~~*~~*~~
Buttons for BREAST CANCER AWARENESS
I know that pink isn't normally a color that you would associate with a teenage boy, I know I don't. I don't like pink on men and boys at all either. Before I finished this LO, I even made sure that it was ok with him that I use it. I actually decided that I wanted to do this LO when he came home from school wearing the Breast Cancer Awareness buttons that are shown in the LO. I was very proud of him that he would wear the buttons and show his support for such a great cause.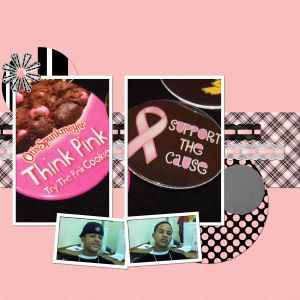 ~~*~~*~~*~~*~~*~~
I'm not sure how many people know this, because I haven't really talked about it much, except to my immediate family, but I just started back to school on October 2. I have been out of high school for 16 years. I have wanted to go back to school for a very long time. When I first decided just to do it, I really thought that I would just take some online classes here and there and then eventually get my degree over a fairly long period of time. But, my husband encouraged me to go ahead and take real classes on campus and to go FULL TIME! He thought that I should go and get the whole experience of going to college. I'm glad that he encouraged me to, because I am really enjoying "the whole experience"!! Since I am now going back to school, that is something that I am passionate about. And to show this off, I decided to make a couple of LO's to show off all my PINK SCHOOL SUPPLIES!!!
~~*~~*~~*~~*~~*~~
Last but certainly NOT LEAST, one of my most important passions is my family. So, I decided to do a LO showing this passion. Since I'm staying with the pink theme, I decided to include my girls and niece (all wearing some pink) and then some flowers in our garden.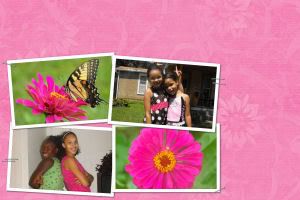 ~~*~~*~~*~~*~~*~~
Now, the part you've been waiting for.....
If you like these layouts, I have created quick pages for all of them.
You can download them for free
~~*~~*~~*~~*~~*~~
ALSO be sure to check back tomorrow because I have a few more that I am going to post. I feel REALLY bad about not getting these posted on time.....and want to make it up to EVERYONE!
~~*~~*~~*~~*~~*~~